In my investigation into the next sculptor called Auguste Forestier, who begins his career in France during the 20th century. This gives Forestier a ability to carve magical objects which is a different kind of approach into human-made manipulation and can also be influenced by clarify and categorization.
When studying on Forester's research into wooden model experiments, like I was examining on Jury-Rigged Assemblages almost if I'm mistaken for inventory of otherworldly via toy collection.
Methods in Forestier's techniques:
Viewing on these strange but wonderful models carved from wooden materials
Most of his work on reptilian relatives seems to react with my two figures of Lizzie long-tail box
A soldier figure riding a horse has a unique approach to it's culture since a historical event of the French Revolution
Using miniature ways of manufacturing with all manner of structures like vehicles, tools and a wide of themes based only into fantastical bestiary
All of his life's work were originally crafted and also conjured from wooden resources at the time of his imprisonment at St. Alban psychiatric hospital
Forestier's website: https://www.outsiderartfair.com/artists/auguste-forestier
Forestier was originally born from a farm in the year of 1887 at the Southeastern Lozere region of France, He also mentioned with enthralled plots involving with trains which leads him into trouble in 1914. Because his arrest were the reason he had placed an amount of pebbles on rail-tracks causing trains to derail, his action had landed him into curiosity at St. Alban psychiatric hospital at aged 27 and remained there until he died in 1958.
Overtime since Forestier's imprisonment he had worked at a warehouse, kitchen and also to adapt with bust and medallions. During mid-1930s he began to craft his wooden objects into toy models for children of hospital employees, This reaction had an increasingly role of being complex to become an artist, who meant to go in great lengths or even depths of what gives me the potential manufacturing, build, shape and adorn his methods into old toys into something imaginary as figures just like my Lizzie long=tail box figures.
Imaginary themes used in Forestier's experiment: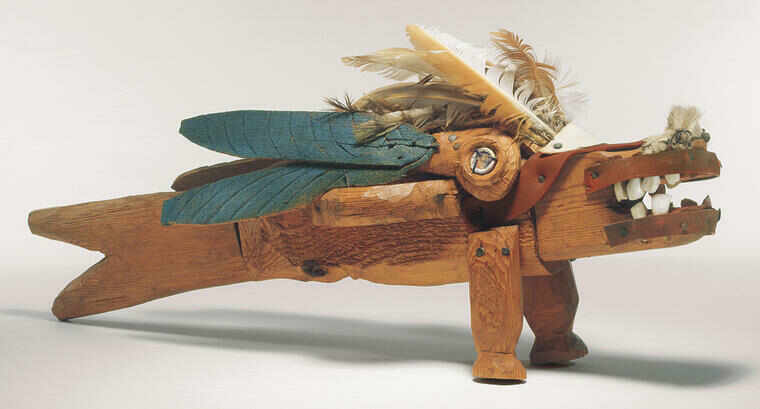 Describing with my French sculptor's imaginary ideas which can create boats, winged creatures and different sorts of decorated generals that has a reflected side of Napoleon Bonaparte also to manufactured with buttons, string, tape, leather and even bones/teeth originated of certain mammals.
Said to had to carve their own personalizes with a life of my own creations
Took to his work seriously as he is meant to established a small workshop for use of perspective way
Able to adapt to his constructive approach of batched elements needed to influence Forestier's role with such developments of wooden arts related with foam resources